Ever seen The Matrix?  It's one of the weirdest movies I've ever seen.  The folks who created the movie and that entire universe are definitely creative, if not a bit warped.  But there's a scene in there that applies to EMS.
In the first Matrix movie, Morpheus offers the protagonist Neo a choice.  "This is your last chance. After this, there is no turning back. You take the blue pill—the story ends, you wake up in your bed and believe whatever you want to believe. You take the red pill—you stay in Wonderland, and I show you how deep the rabbit hole goes. Remember: all I'm offering is the truth. Nothing more."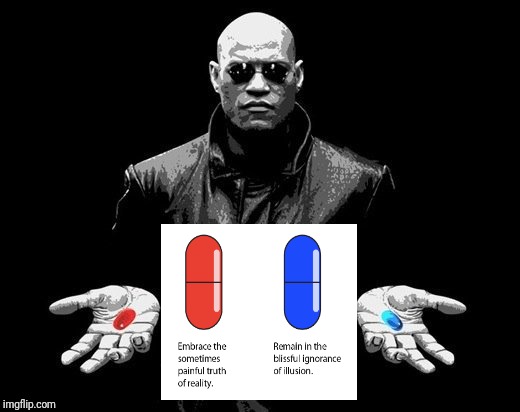 The allegory applies to EMS as well. At some point in your EMS career, hopefully early along, you're offered the choice of the red pill or the blue pill.  You may not even realize you're being offered this choice, but it'll happen nonetheless.
For EMS, if you take the blue pill, you'll be perfectly happy with "meets minimum standards."  You'll be able to juggle the inherent contradictions the average EMS provider believes that "we do everything a doctor does, but at 80 miles per hour" and "we don't diagnose." (By the way, that's EXACTLY what doctors, as well as any other clinician, do — diagnose.) You'll believe that the less than 200 clock hours of training to become an emergency medical technician (EMT) represents a significant level of professional achievement and that such a level of "achievement" qualifies you to "save" your paramedic partner regularly.  In short, you'll become blissfully ignorant and perfectly happy working the dialysis shuffle and keeping the EMT t-shirt manufacturers in business.
OR…. you can take the red pill. You can learn evidence based medicine.  You can learn the science behind what we do.  You can begin to understand the outside factors that impact EMS — law, politics, and policy.  God forbid, you might even understand that there's no one single bullet that will fix all of EMS's problems.  We've tried EMS 2.0; we've tried "community paramedicine;" and now we're on the "EMS needs degrees" kick. Truth is — we probably need all of those things to make EMS great again.  And probably some more things need to happen to truly fix EMS.  BUT, you have to be willing to accept the knowledge and education.
Pardon the change in allegory here, but when the snake offers you the forbidden fruit with the gift of knowledge and you eat it, you open your eyes.  And to add one more allegory, you might even see that the emperor has no clothes.
Somewhere along the way in my EMS career, I was fortunate enough to be around some educated and wise folks in prehospital medicine who offered me the red pill and the forbidden fruit.  I opened my eyes and realized that this is the practice of medicine and that it's a constantly growing field whose only certainty is the growth of that which we don't know.  I learned to embrace nuance.  I learned to embrace learning.  I think I'm better for it.  And I'd like to hope that some of my patients are better for it.
What would've happened had I chosen to take the blue pill and remain complacent, ignorant, and blissful? I'd have been "happy" riding an engine as the token EMT at a volunteer fire department that ran 1-2 calls a shift and where learning wasn't encouraged. Ignorance would have been bliss.
But would I have truly grown?  Nope.
Do I have regrets?  I absolutely do at times. There are times when doing the right thing isn't easy. There's also knowing when to pick your battles.  Anyone who knows me knows that's a continuing challenge for me. Would I take the same choice again?  Also, yes.
For each of you, there's a choice each day you practice prehospital medicine.  I hope that you take the choice to stay in Wonderland and see how deep the rabbit hole goes.  You, your patients, and our profession will all get better.